Grow Your Own Food with Tower Garden
I Am So Excited!
I am so excited to announce that I am now a Tower Garden partner. As many of you know, I am an avid gardener. I have planted vegetable gardens in community gardens, backyards, and even my patio. Lately, I discovered the Tower Garden through a friend and I completely fell in love with it. If you are interested in becoming more self-sufficient and eating healthier by growing your own food in the easiest way possible, you'll love this handy tool as well. You can grow healthy fruits and vegetables year-around and best of all, it's affordable on almost any budget! Good health starts with good habits, like eating wholesome foods.  Tower Garden systems let you easily grow your own fresh, nutrient-rich food without soil.  The Tower Garden FLEX can be used indoors or outdoors.  Grow a healthier you year-round.
Support Your Healthy Lifestyle with Tower Garden
No green thumb? No problem. Our vertical, aeroponic garden systems allow you to grow your own produce without the learning curve or time commitment of traditional gardening. Grow greens and herbs indoors with Tower Garden HOME, or enjoy a wide variety of fruits, vegetables, herbs and flowers with the Tower Garden FLEX. Each model takes up less than 3 square feet.
Tower Garden Customer Reviews
Grow Up to 30% More Healthy Food, 3x Faster
Using aeroponics—the same technology NASA uses—Tower Garden grows plants with only water and nutrients rather than dirt. Research has found aeroponic systems grow plants three times faster and produce 30% greater yields on average. That means you'll be enjoying abundant, nutritious harvests just weeks after planting (or even earlier if you start with seedlings from one of our Certified Seedling Providers).
Using Tower Garden to Feed Homeless
Get Nutrient-Loaded Produce (without Loads of Work)
Pests, disease, weeds—traditional gardening can be complicated and time-consuming. But because Tower Garden automatically delivers water and nutrients when they're most needed, you're able to grow strong, healthy plants with minimal effort. And healthy plants can better protect themselves from pests and diseases naturally, without pesticides. Plus, you don't have to deal with weeds (or getting dirty) because there's no soil.
Live Well While Conserving Water and Space
Want a garden but don't have the space or the ideal outdoor growing conditions?  Tower Garden has a vertical, compact design and closed-loop system technology, so it requires as little as 10% of the space and water you'd use with traditional growing.  And our new Tower Garden HOME lets you grow greens and herbs indoors, year-round.  So you can grow your own healthy food — in a way that's also healthier for the environment.
Watch 4-Week Growing Time-Lapse
Tower Garden Plants You Can Grow
You probably already know that you should eat a lot of fruits and vegetables every day—and the more variety, the greater the benefit. Luckily, you can grow both a high number and large variety of vegetables, herbs, fruits and flowers with Tower Garden.
In fact, Tower Garden can grow more than 150 different wellness-promoting plants. (The only real exceptions are root crops—such as carrots and potatoes—grapevines, bushes and trees.) LEARN MORE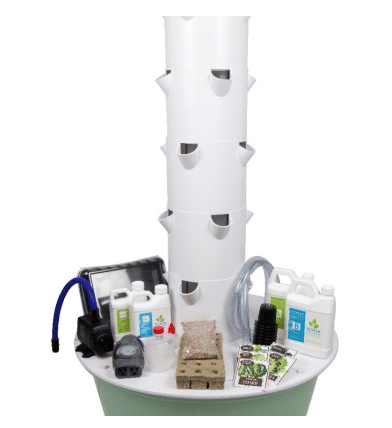 Includes:
Vertical, aeroponics Tower Garden
A variety of starter seeds
Seed starting supplies, including germination tray, 20 rockwood cubes, vermiculite and net pots
Pump, timer, and drain tube
Tower Garden Mineral Blend plant food (1 qt. each) and measuring cup (Shipping restrictions in HI and PR require special handling of liquids.
pH test kit and one bottle each of pH require special handling of liquids.
Dedicated customer support and comprehensive growing resources to help at every state of your Tower Garden experience.
How Does the Tower Garden Work?
Tower Garden will arrive at your doorstep with seeds, nutrients, supplies—everything you need to get growing. After about 20–25 minutes of minimal setup, here's how your Tower Garden will function.
1.

Plants grow in a soilless medium called rockwool.
You'll start seedlings using the kit we ship with every Tower Garden (unless you decide to buy seedlings). And when your seedlings are ready — usually about 3 weeks after germination — you'll plant them in your indoor or outdoor Tower Garden.
Instead of soil, Tower Garden plants grow in a medium called rockwool, which provides plant roots with oxygen and consistent moisture, encouraging rapid, healthy growth.
2. The reservoir stores the plant nutrient solution.
Tower Garden Mineral Blend, our proprietary plant food, powers Tower Garden. Containing the pure earth minerals essential to healthy plant development, the Mineral Blend provides an all-natural "shortcut" for plants, which typically must source nutrients from decomposing organic matter in soil. The result is greater nutrient uptake and superior growth for a range of plants.
You'll fill the reservoir at the base of your Tower Garden with a mixture of Tower Garden Mineral Blend and water.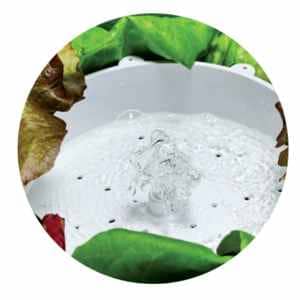 3.

The solution cascades down the Tower Garden, nourishing plants.
A low-wattage, submersible pump in the reservoir pushes the nutrient solution to the top of the Tower Garden through a small central pipe. The nutrient solution then drips down the inside of the Tower Garden, evenly cascading over the exposed plant roots.
A timer ensures this process repeats continuously—usually in 15-minute increments—to deliver the ideal amount of oxygen, water and nutrients to plants at the perfect time.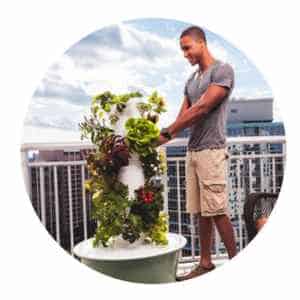 4.

In a few weeks, plants are harvest‑ready!
Aside from a few minor maintenance tasks, such as checking water levels and cleaning the pump filter, Tower Garden will take care of itself. And in just a few short weeks, you'll be enjoying abundant homegrown produce, harvested at its peak (so you can be at yours).
Still have questions about how Tower Garden works? Visit the FAQs.
Order Your Tower Garden Today & Get Started!
 Cost as low as $51 per month for 12 months with the affordable payment plan. A low price for having your own fresh veggies year-around. This is one of the best investments I've made!
FYI- I have the FLEX system with the LED lights (allows me to grow both indoors and outdoors.)
If you have any questions, please contact me with the little birdie.  If you are interested in also selling Tower Gardens, let me know. 🙂