The Christian Meditator Listening Library
Building a daily Christian meditation practice is easy with the Christian Meditator Listening Library
Start Your Listening Library Membership Today!
 Starting a spiritual self-care routine doesn't have to be difficult. With the Christian Meditation Listening Library you have a variety of guided meditations to renew your mind, reduce stress, and dwell in God's presence.
It's important that we spend just as much time on our inner life as we do the outer because we are only as healthy as our thoughts. "As a man thinks in his heart so is he."
How would you like to expand your Christian meditation library with resources to help you:
Over 70 guided Christian meditations and affirmations at ONE low monthly cost!

Easy access on a variety of mobile devices.

Each audio formatted in beautiful video.

Get started with the 10-Day Christian Meditation Challenge.

Use the Listening Library with the Christian Meditation Journal or Detox Your Life & Awaken Your Inner Spirit Program.
The Listening Library Membership Includes:

OVER 70 GUIDED CHRISTIAN MEDITATION AUDIOS
Guided meditation & affirmation audios to enhance your life & relationship with God!
Click the Arrow to Try a Guided Meditation Now!
Listening Library Categories: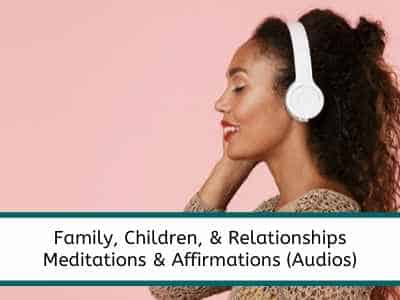 See a list of Full Length Guided Meditation Meditations and Affirmations included in the Listening Library. This does not include 5-minute meditations. 
Check out the Emotional Health & Healing Guided Meditations
About Emotional Health and Healing

Releasing the Past Meditation ( 20:31)

Releasing Toxic Emotions Meditation (14:00)

Children's Meditation: Releasing Uncomfortable Feelings (11:02)

Overcoming Restlessness Meditation (20:00)

I Forgive Meditation (25:25)

Pure Living Water Healing Meditation (18:01)

Healing Affirmations (33:57)

The Battle is the Lords Meditation (23:00)

You Deserve Love Meditation (18:23)

I Am Divine Meditation (22:29)

Perfect Love Cast Out Fear Meditation (22:23)

Jesus is my Peace Meditation (18:36)

Joy Affirmations (12:59)

In Loving Memory Meditation (24:07)

The Joy Train: Meditation for Young Children (10:14)

Morning Spiritual Warfare with Affirmations (18:04)

Toxic Emotions Meditation (13:51)

I Surrender Meditation (21:53)

In His Presence Meditation (22:48)
Also, By Becoming a Member, You Support The Christian Meditator!
Billed monthly at $15/Month
Regular Price at $19.95/Month
*No Return Policy, Just cancel before renews.
Billed yearly at $97/Year
Regular Price at $180/year
*No Return Policy, Just cancel before renews.
*These rates are locked in for as long as you are a member. If the prices increase for new members, it won't affect your payment.
TERMS AND CONDITIONS
Cancel your monthly membership or yearly at any time. Refunds are NOT available for the memberships once payment is made.
Questions About Membership
Question # 1- How do I cancel 7-day trial or membership?
Answer- It's easy and you'll find the instructions inside the membership. We recommend canceling within membership to make sure you aren't billed before the deadline. 
Question #2- Are the meditations downloadable?
Answer: No, they are not downloadable but can be accessed on a variety of digital devices for easy use. 
Question # 3- Can we request new meditations?
Answer- Yes you can, just send me a list of titles and topics for future consideration. 
Question # 4- How do I use the Listening Library?
Answer- I have included a 10-minute welcome video to help you navigate through the different parts of the Listening Library.