New! Begins October or November 2023
Build a life-long meditation practice and community by being a part of
Just Meditate Online Group

, Listening Library, and More.
Access to LIVE & Online Christian Meditation Group that meets 2 x's per month.  One Wednesday evening and Saturday morning (PST). (Replays available if you can't make the group)
The Just Meditate Masterclass- This 75 minute course teaches you how to meditate and guides you through a variety of Christian meditation techniques.
10 Day Christian Meditation Challenge- Includes devotionals and meditations to help you jumpstart your Christian meditation practice.
Access to my Christian Meditation Listening Library with over 80 guided meditations.
Ability to request new meditation topics to be added to the library. Two new meditations selected and added each month.

This Membership is FREE for 12 months, when you enroll in the Meditate and Grow or Total Mess to Total Rest Courses.

 Starting a meditation practice doesn't have to be difficult. With JUST MEDITATE Online Christian Meditation Group and additional resources, you have everything you need to become a successful Christian meditator. 
JUST MEDITATE
ONLINE GROUP
It's important that we spend just as much time on our inner life as we do the outer because we are only as healthy as our thoughts. "As a man thinks in his heart so is he."
Each Just Meditate Live Online Class lasts about 75-minutes and follows the outline below: 
Welcome and checking in.

20 minutes of guided & silent meditation

10-15 minute lesson around a Biblical topic or theme to move us into a deeper and more experiential relationship with Christ.

10-15 minutes of group talk around several prompts.

Reflections and closing.
(The group meets 2 times per month. Replays available if you can't make the meeting.)
Online Group Meeting Times:
2nd Saturdays @ 9 a.m.
4th Wednesdays @ 5 p.m. (Both Pacific Standard Time) Replays available.
Start Your JUST MEDITATE Membership Today!
Included in Your Membership:
The Christian Meditator Listening Library

OVER 70 GUIDED CHRISTIAN MEDITATION AUDIOS
Guided meditation & affirmation audios to enhance your life & relationship with God!
Click the Arrow to Try a Guided Meditation Now!
Listening Library Categories: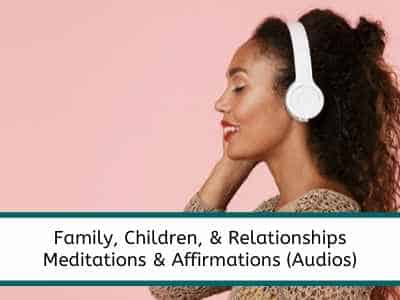 See a list of Full Length Guided Meditation Meditations and Affirmations included in the Listening Library. This does not include 5-minute meditations. 
Check out the Emotional Health & Healing Guided Meditations
About Emotional Health and Healing

Releasing the Past Meditation ( 20:31)

Releasing Toxic Emotions Meditation (14:00)

Children's Meditation: Releasing Uncomfortable Feelings (11:02)

Overcoming Restlessness Meditation (20:00)

I Forgive Meditation (25:25)

Pure Living Water Healing Meditation (18:01)

Healing Affirmations (33:57)

The Battle is the Lords Meditation (23:00)

You Deserve Love Meditation (18:23)

I Am Divine Meditation (22:29)

Perfect Love Cast Out Fear Meditation (22:23)

Jesus is my Peace Meditation (18:36)

Joy Affirmations (12:59)

In Loving Memory Meditation (24:07)

The Joy Train: Meditation for Young Children (10:14)

Morning Spiritual Warfare with Affirmations (18:04)

Toxic Emotions Meditation (13:51)

I Surrender Meditation (21:53)

In His Presence Meditation (22:48)
Also, By Becoming a Member, You Support The Christian Meditator!
Billed monthly at $20/Month*
(A $80 month value)
*No Return Policy, Just cancel before renews.
Billed yearly at $197/Year
Regular Price at $240/year
*For the yearly membership, there is a 30 day refund policy. You'll just pay for the first month. Also, you have 5 days to cancel any renewal if you did not intend to keep the membership another year.
*These rates are locked in for as long as you are a member. If the prices increase for new members, it won't affect your payment.
TERMS AND CONDITIONS
Cancel your monthly membership or yearly at any time. Refunds are NOT available for the memberships once payment is made.
Questions About Membership
Question # 1- Want to enrolled in one of your courses, how to do I access this membership?
Answer- Once you are enrolled, you will be added into the membership within 7-days. If you haven't been enrolled by then, please just let me know. You will receive an invitation to join via email 
Question #2- Are the meditations downloadable?
Answer: No, they are not downloadable but can be accessed on a variety of digital devices for easy use. We now also have an app that makes all the materials easily accessible from your mobile device.
Question # 3- How do I request new meditation topics or themes?
Answer- Within the portal, there is a discussion session that you can make requests. I will select two new ones each month to create and add to the library.
Question # 4- How do I use the Listening Library?
Answer- I have included a 10-minute welcome video to help you navigate through the different parts of the Listening Library
Question #5- I don't know how to meditate, will I feel lost in the group meetings? 
Answer- If you are new to Christian meditation, you'll want to first take the Just Meditate Masterclass (included in the membership) that will teach you how to meditate and various techniques that you will practice with me. During the groups, I will not be doing any meditation instruction other than to set us up to meditate. All the meditations will be guided, but may include some silent time so you'll want to the basics.
Question #6- When will the replays become available? 
Answer- The replays will be available and uploaded to the membership portal within 48 hours after each class. I will try to add them as soon as possible, but sometimes it unexpectantly takes a little longer.
Start Your JUST MEDITATE Membership Today!